Every year around the month of Feb., I always feel a little, well, dull.....I get in somewhat of a slump, which of course leads to Artist's Block. I've had this blog since Jan., and have never posted anything until now. (So , Welcome and Thank You for being among the first viewers of my blog!) Winter just seems to zap me (after Christmas and New Year's, anyway). But, this week I've noticed the tiny little buds on the trees, some bulbs are starting to come up, and if I look hard enough, I can see the green grass of Spring under the dead brown growth from last year.....So now I am feeling a little more energized, awaking from the dullness. I have some wonderful new Artist's papers that I've been looking through and planning what their future will hold....a new dress for an Angel or Fairy, or as interesting backdrops for my paintings and collages....Anyway, my upcoming pieces are going to reflect my anticipation for Spring with fresh colors and patterns. Of course, I will still have some truly Primitive pieces in the mix! And, new this year.....Art Prints! I am so excited to be offering Archival Prints of my past works....You can find them on Ebay and Etsy.
This Original Collage Painting is listed on Ebay right now....SOLD!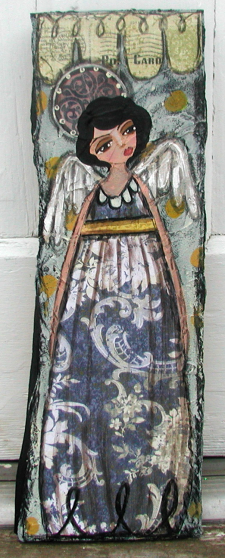 And this one....SOLD!